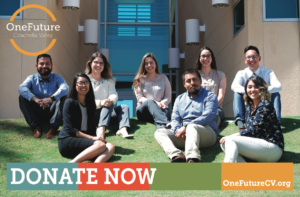 OneFuture Coachella Valley Celebrates 12th Annual Scholarship Awards Ceremony
Palm Desert, Calif. – (June 20, 2020) OneFuture Coachella Valley (OFCV) kicks off its first event to celebrate the scholars of 2020 with the virtual 12th Annual Scholarship Awards Ceremony on Saturday, June 20 from 10 to 11am. This interactive Zoom event invites scholarship awardees, friends, family, community leaders and OneFuture staff to celebrate topping the $16 million mark in total awards given since 2009.
College scholarships are made possible through OFCV with funding matched with local business, education, nonprofit and civic and private donors. OneFuture Coachella Valley is contributing matching funding with partners to award a combined total of more than $400,000 in scholarships for local students at this event, and more to come this summer.
"This is the first in a series of celebrations for our scholars this year with more to come as the summer goes on," said Sheila Thornton, President/CEO of OneFuture Coachella Valley. "This is an unprecedented time. Students across the globe have been uniquely affected by the pandemic, and their experiences are raw and often heartbreaking. On a daily basis, we hear from our young people needing financial assistance due to parents being laid off, families struggling to buy groceries and afford rent, and many are reaching out for help to deal with mental health crises. Nevertheless, the importance of education is understood and students continue to push forward, and we are helping ensure they stay on their educational path. Education is economic development, and we must ensure our future has a well-educated workforce. The scholarships given this year allow us to break the $16 million mark here in Coachella Valley and I couldn't be more proud."
Ernie Rios, Vice Present of College Success, will give an update on the impact of aligned scholarship giving in the Coachella Valley over the past 12 years.
"With major support from the College Futures Foundation of California, and our community partners, allow us to support the valley's college, career and economic goals," said Rios. "This event is just the start of what you will see from OneFuture Coachella Valley this summer. I want to congratulate the 111 students who receive scholarships at this event, and I wish you huge success. Know that OneFuture and our partners are here for you now, and always as mentors, coaches, employers and more, and we look forward to seeing what you accomplish in college and beyond."
Scholarship partners for this event and future announcements include BBS Brokers Realty, Boys and Girls Clubs of Coachella Valley, Charles F. Rechlin, City of Desert Hot Springs, Desert Healthcare District, Desert Hot Springs Women's Club, Desert Regional Medical Center Auxiliary, Dr. Reynaldo Carreon Foundation, Eisenhower Dolores Hope Auxiliary, Greater Palm Springs Tourism Foundation, Modernism Week, The Living Desert, Theresa A. Mike Scholarship Foundation, and Women's Leaders Forum. Over 110 scholars will be recognized during the June 20 event. The full list of scholars will be presented at the end of the summer.
About OneFuture Coachella Valley
OneFuture Coachella Valley is a 501(c)3 nonprofit organization that believes education is economic development. An educated workforce supports a strong economy and creates jobs that support families who, in turn, support the economy. This cycle of success drives our mission:
To assure all students succeed in college, career, and life – expanding and enhancing the local workforce so that our youth and economy thrive.
Specifically, our goal is that all students will:
Have a clear economic and academic path to and through college;
Successfully complete post-secondary degrees, credentials or certificates;
land a job with a promising financial potential, and
Contribute to a thriving economy.
OFCV is located at 41550 Eclectic Street, Suite 200E, Palm Desert. For information call (760) 625-0422 or visit www.onefuturecv.org. Tax ID #81-3653698