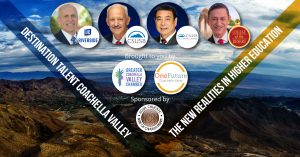 Destination Talent Webinar
If you think running a higher educational institution is difficult, try doing it in a pandemic. But according to the Valley's top educators who spoke at the 2021 Destination Talent Coachella Valley webinar (held on January 25), the challenges of adapting to remote learning during COVID and a "down" economy are eclipsed by giving area students the opportunity to succeed and delivering a top-quality workforce for businesses to thrive. And with the help of a community that's supportive of education.
Moderated by Sheila Thornton, CEO of OneFuture (a nonprofit that helps low-income students become part of a high-quality workforce and strong regional economy) and Greater Coachella Valley Chamber of Commerce Vice President, Director of Public Policy Diana Soto, the guest panel featured Dr. Joel Kinnamon, President, College of the Desert (COD); Dr. Jake Zhu, Dean, California State University San Bernardino, Palm Desert Campus; Dr. Tomás Morales, President, California State University San Bernardino; and Dr. Kim Wilcox, Chancellor, University of California Riverside.
All the institutions represented have substantial campuses in Palm Desert (although they may have others elsewhere). Among the insights derived from the webinar is the interdependence of area institutions, right down to CSUSB and UCR sharing a master planned campus in Palm Desert. Dr. Morales noted that "more than 50 percent of our incoming students come from the College of the Desert and other community colleges in the region." Finding ways to partner with each other is important, according to Dr. Wilcox. "It doesn't make sense for both of us [speaking to Dr. Morales] to teach introductory math for interest rate chemistry side by side in Palm Desert," he said. "First of all, your tuition is lower than mine – it makes much more sense for you to take the lead on the undergraduate instruction in the valley."
To read the full article, please Click Here, or watch the Live Broadcast below.
OFCV is located at 41550 Eclectic Street, Suite 200E, Palm Desert. For information call (760) 625-0422 or visit www.onefuturecv.org. Tax ID #81-3653698