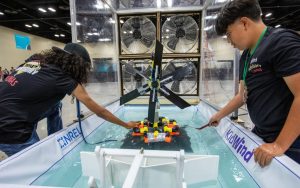 2022 National KidWind Challenge
May 31, 2022 – Original Article from Michael Arquin, CEO KidWind Project
The National KidWind Challenge at CLEANPOWER in San Antonio, TX brought the 2021-22 KidWind Challenge season to an end. This culminating event featured the top performing teams from 27 regional events from 13 states. These 53 teams, in addition to 7 teams participating virtually, brought together 250 inspiring students along with coaches, parents and siblings. It was a glorious sight to behold.
This was our first in-person national event since 2019. While we have held virtual events for the last few years, it was energizing to connect with all of these hardworking students and coaches for a proper renewable energy celebration. As you can imagine, the last few years have been challenging for educators everywhere. It felt more important than ever to honor these amazing students and their teachers.
We were surprised by the number of teams that were able to attend the National KidWind Challenge. With rising travel costs and another COVID surge, we anticipated participation would be modest. Student teams surprised us, traveling from established programs in Alaska and Colorado and new ones in Texas and Rhode Island.
It was also thrilling for us to welcome top teams from our first ever KidWind challenge in Mexico – Quetzal and WindTamers. This was no simple feat. In addition to getting passports, visas and the required paperwork done – they had to drive 2,000 miles to attend.
Team Hutch STEM Blue from Hutchinson, KS ultimately won the Elementary School division. This team was added as a provisional entry at the last minute. They came ready to COMPETE, and when they came out on top, they were overwhelmed with emotion!
A few teams like Windy Winners and W.I.N.D. were able to send only one participant due to conflicting schedules and travel costs. It is impressive enough for a team of students to complete all the work required at a competition like this. It seems almost unthinkable to do it alone!
Veteran students and teams from WI, WA, CA and VA continue to improve their skills and knowledge as they participate year after year in the KidWind Challenge. These students are in a league of their own – constructing generators, gearboxes and sophisticated airfoils as they vie to make more power than their competitors. This year I had to make rule adjudications on buck converters, turbine shrouds and a variety of 3D printed blades. It is hard to keep up with these students year after year.
Collegiate Wind Competition & KidWind
It was great to be in the same space with the 2022 Collegiate Wind Competition. Coaches and students often point to this as a highlight of the event. This year we combined KidWind teams with college teams in an epic MacGyver Wind challenge to see who could lift the most weight with the least materials. Prizes were on the line and they only had an hour to get it done!
These opportunities, in addition to getting on the CLEANPOWER trade show floor, really help students get connected to these industries. We hope in the future they choose to join this exciting new economy!
Like past National KidWind Challenges, there were exhilarating as well as challenging moments. We threw a myriad of new events at the students and many of them rose to the occasion. This quote from one of the coaches sums things up very well.
Floating Offshore Wind Challenge
All students were required to construct a floating offshore wind turbine that would handle waves and wind. This was the first time they had done this and we saw some amazing turbines. I think students will see this contest again but with more wind and bigger waves. We better get to work on a larger tank!
Extra Fast Tunnel
Every year students must test their turbines in 4 different wind tunnels that produce different wind speeds to simulate real world conditions. This year our fast tunnel was topping out at around 7.0 m/s (~ 15 mph). This was pushing some of the student small-scale turbines to the test. They had many nicknames for this tunnel – The Shredder, The Heartbreaker, the teams from Mexico called it the traga turbinas – the turbine eater!
Hydropower Challenge
We used the National Challenge to pilot a new hydropower contest. Student teams had one hour to construct and test a simple hydropower device. We probably should have done this outside — water was flying all over the place as they worked to optimize their small scale hydropower devices. Jim and Larry, our judges, faced a wet challenge.
Staff & Volunteers
A big shout out to all the REcharge Instructors that came together from all over the US to help make this event possible. While we cover travel, food and fun, these amazing educators do not get paid. They do it because they love it. We barely held it together as we lost 5 staff to COVID. That meant less breaks and more responsibilities for everyone. Somehow we got it all done, collated the scores and handed out awards.
It was amazing to see all these great educators in person again – I look forward to more of that in 2022-23.
Partners and Sponsors
In addition to our staff and volunteers we must also thanks all our partners that make the 30+ regional events happen and our sponsors who see the value and necessity in helping the next generation connect with careers in these vital and important spaces that will power the clean energy economy. Thanks for your sustained vision and support, you are a critical link in building a clean energy future.
Start Planning NOW!
We start planning the 2022-23 KidWind Challenge season in July. Contact KidWind ASAP if you are interested in bringing us to your state or region as a sponsor or partner. On the heels of our National Challenge, our calendar is filling up.