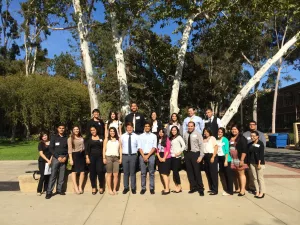 OneFuture Coachella Valley hopes to grow new generation of health care providers
October 3, 2023 – Ema Sasic | Palm Springs Desert Sun
When Indio native Cristal Salcido was 7, her mother took her to a Flying Doctors and medical volunteers health fair, where families from the valley speak with doctors and dentists and receive free medical services. That moment opened her eyes.
"I remember there were huge lines and my mom telling me this is the one time of the year that these people get any sort of medical or dental care," Salcido recalled. "To me, it was astonishing. I had a visual of the need that the eastern Coachella Valley has."
It was then that she started dreaming of a future in the medical field. As she began her higher education journey years later, Salcido discovered OneFuture Coachella Valley, an organization dedicated to partnering local students with local businesses, nonprofits and cities to explore career opportunities in health. Salcido was able to land a summer job shadowing program with University of California Riverside's Future Physician Leaders and two internships through Health Career Connection, which is affiliated with OneFuture.
Those opportunities helped set her eyes on naturopathic medicine, which she is currently studying at Bastyr University in San Diego. She will graduate in the spring of 2024 and plans to return to the Coachella Valley to help those who need it most.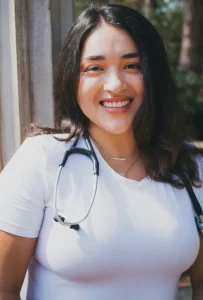 "Coming back has always been my goal, and OneFuture has always been a big part of that," she said.
Since 2010, 255 Coachella Valley students have completed internships through OneFuture, and many have moved on to health careers or graduate programs, according to the organization. Just this summer, 29 students completed internships with local employers, including Desert Regional Medical Center, FIND Foodbank, Desert Oasis Healthcare, the Desert Healthcare District and the City of Coachella.
Not only does the program encourage students to pursue higher education and learn about possible career pathways, President/CEO Sheila Thornton said it also benefits the Coachella Valley as a whole. It's a way to "grow our own" and increase the number of working health professionals in the area, and in turn, reduce local residents' barriers to care.
Local opportunities
Back in 2005, a Coachella Valley Economic Partnership committee comprised of College of the Desert and business partners stressed there was a need to improve post-secondary educational attainment in the Coachella Valley, Thornton explained. The committee created the Career Pathways Initiative to focus on three areas that had the greatest promise for jobs and the greatest deficits in the area: health care, technology and arts/media/entertainment.
The program grew and expanded over the years to include a regional college access and scholarship initiative called Pathways to Success and a Regional Plan for College and Career Success, which focuses on ways business and education can come together to increase high school graduation rates and college readiness. It also partnered with Health Career Connections to match students to the internships that would best serve their interests.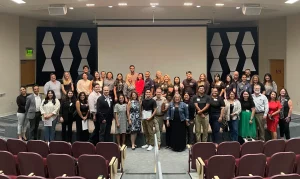 In 2017, OneFuture Coachella Valley spun off from CVEP to continue providing opportunities to local students.
Thornton said students with various interests and educational backgrounds, from pre-medical programs to information technology to marketing, have been placed in health-related internships across the valley. It's been a way to show them that there are many different types of careers to be found in health care, and by placing them in local hospitals, food banks or businesses, it allows them to see how these organizations come together to advance the field.
"This really was designed from the onset to be about students who are thinking about getting into health professions, but to (also) give them exposure to the social determinants and the wilder context for health. What are the things that affect health, and what does it look like specifically in the Coachella Valley?" Thornton said. "We wanted there to be a real cross-section of the community so that students understood, 'If I'm becoming a doctor or nurse, there are ways that I can influence health overall and I should understand context.'"
Part of this year's intern class was La Quinta native Haley Calasan, a senior at University of California, Berkeley, where she is studying public health and is on the pre-med track. She was a marketing intern this summer at Desert Regional Medical Center in Palm Springs working on a cancer prevention campaign with the Comprehensive Cancer Center. The campaign encourages people to know their health status and cancer risks and when to come in for routine screenings.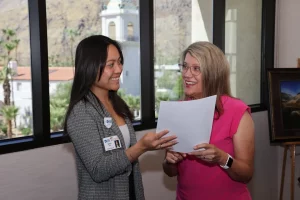 Calasan said she spent time researching the American Cancer Society's website to find the latest information on screenings and finding the best way to present her information. The campaign will be rolled out on social media and ads during the fall and winter months, and the public will be able to take advantage of free skin cancer screenings in November.
Aside from her main project, she spoke with lead doctors at the cancer center and attended weekly meetings, where oncologists discuss new cancer cases and the best treatment plans for patients. One of the most valuable experiences she had was collaborating with different departments and seeing what goes on day-to-day at the hospital.
"That's what I've really loved about this internship through OneFuture Coachella Valley and Health Career Connections. Their whole goal is to provide you that real-world experience in networking and in future career settings that you are interested in," Calasan said.
Similarly, Salcido looks back fondly at her time with OneFuture. She secured scholarships through the nonprofit in high school and continued her education at College of the Desert and UCR, becoming the first person in her family to pursue higher education.
Through OneFuture, she landed a summer internship with then-named Desert AIDS Project in 2014, where she worked on Get Tested Coachella Valley, a campaign encouraging people to know their HIV status and get tested regularly. The following summer, Salcido worked with the Regional Access Project (RAP) Foundation on a mental health app targeted for youth in the community. That internship led to a job with the Latino Commission counseling center in Coachella, where she worked for nearly three years after graduating from UCR, and it also gave her clarity on her career goals.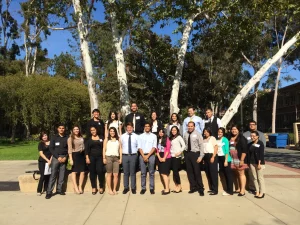 "My plan was to take the (Medical College Admission Test) and ideally go to UCR School of Medicine, but through all these job shadowings and internships I was having … I got a lot of exposure and I was kind of starting to doubt whether I would find the traditional medical route fulfilling for me," Salcido said. "It hadn't dawned on me until this internship …that I was like, 'Oh my gosh, how come I never considered a career in mental health?'"
Salcido is currently attending her final year at Bastyr University for a doctorate degree in naturopathic medicine and master's degree in counseling psychology.
'We're already seeing the benefits'
By showing local students what's available in their community, OneFuture Coachella Valley encourages them to practice health care in the valley, especially given the area's health care challenges.
According to the latest Coachella Valley Community Health Survey, the top five barriers for residents seeking health care include the length of time to get an appointment (36% or an estimated 110,407 people), hours the provider is open to see patients (21% or 61,699 people), understanding what is covered by one's plan (17% or 48,967 people), not having authorization from an HMO (15% or 40,712 people) and taking time off work (14% or 42,102 people). Additionally, 13% of adults ages 18 to 64 were without health care coverage in 2022.
Desert Care Network's Marketing Director Richard Ramhoff said the hospital system has "always been invested in growing our own" and expanding the number of providers in the area. In 2015, Desert Regional created residency programs to train the next generation of physicians with the goal of bringing them back to the area. It has also had a steady stream of yearly interns with OneFuture, and Ramhoff said a former intern is now working with the graduate medical education program.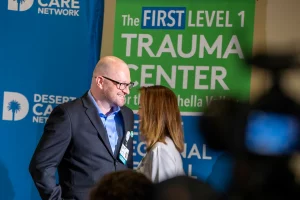 "We're already seeing the benefits," Ramhoff said.
Thornton added that health outcomes are changed when a provider understands a patient's culture and they have a sense of connection to the community. During the height of the COVID-19 pandemic, promotoras, or community health workers, were trusted messengers and service providers that helped get tests, vaccines and resources to those most vulnerable to exposure to the virus, including Spanish-speaking residents in the east valley.
When Calasan became interested in pursuing public health in high school, she was aware of the health challenges present in the Coachella Valley. Those issues are on her radar even more now that she's gone away to college and interned at Desert Regional, she said, and it's a "driving factor" of why she wants to continue to pursue a career in this field.
During the course of her internship, Calasan learned about Desert Regional's residency opportunities and met with program leaders. She's still figuring out which medical specialty would be the best for her, but she said she's "highly interested" in possibly pursuing one and "becoming a physician in my local community."
Before she walks across the graduation stage, Salcido has big ideas for servicing her community. She wants to open a naturopathic medicine clinic and offer free or low-cost services to the community, specifically those in the eastern Coachella Valley cities.
"Naturopathic medicine is known to many as an elite type of medicine, (one that) only those who are very resourceful can take advantage of," Salcido said. But "there are ways of providing free work," she said, such as holding free monthly clinics on weekends or applying for grants. She would also like to collaborate with and bring in medical doctors who specialize in traditional forms of medicine.
Regardless, she wants to do what she can to help those who need it most. "I definitely feel like I am indebted to the community. I feel a great desire to give back," she added. She has even served as a mentor for interns with OneFuture and Health Career Connection.
Students who live and go to school in the Coachella Valley can apply for OneFuture internships or scholarships. For more information, visit www.onefuturecv.org.
Ema Sasic covers entertainment and health in the Coachella Valley. Reach her at ema.sasic@desertsun.com or on Twitter @ema_sasic.