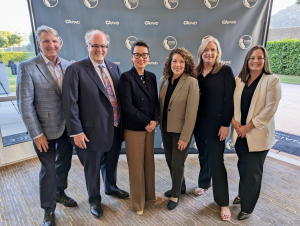 Valley leaders host 'Healthcare Workforce Crisis Tour' to bring awareness to ongoing healthcare shortage
October 12, 2023 – Bianca Ventura | KESQ News Channel 3
Watch the video from KESQ here.
Indian Wells is hosting the California Forward Economic Conference with leaders around the Coachella Valley and State attending.
One key issue they're discussing, among many others is a regional and statewide healthcare shortage.
For this reason, 'OneFuture Coachella Valley' and other valley healthcare leaders are hosting a 'Healthcare Workforce Crisis Tour.'
The tours are an example of how valley organizations and hospitals are working together to "grow the workforce locally."
One way to do that is by training and retaining valley students to work in regional hospitals once they graduate.
OneFuture Coachella Valley CEO, Sheila Thornton said, "We want to bring up our own population of students and make sure that they can prepare for those jobs, get those jobs and then serve in the health workforce. Because we want them to bring their gifts to it and provide a local response to the healthcare needs of the region."
The "Healthcare Workforce Crisis Tour" is a bus tour that walks leaders through different programs that prepare students for a career in healthcare.
Linda Evans, Desert Care Network's Chief Strategy Officer said, "We're visiting, La Quinta high school's health partnership academy, we're visiting College of the Desert's nursing program and Cal State San Bernardino's street medicine nursing program. So we're combining and showing some of those visitors from outside the area…the need for healthcare careers, whether it's tech schools, whether it's registered nurses or as we recruit more physicians to the valley, it just it helps all of us as a region."
On Thursday, a panel of valley healthcare executives will be discussing solutions to tackle the regional and the state's ongoing healthcare shortage .
The Coachella Valley Economic Partnership's annual economic report also shows that healthcare is the valley industry with the most jobs to fill.